Why N95 Mask
Update:2/17/2022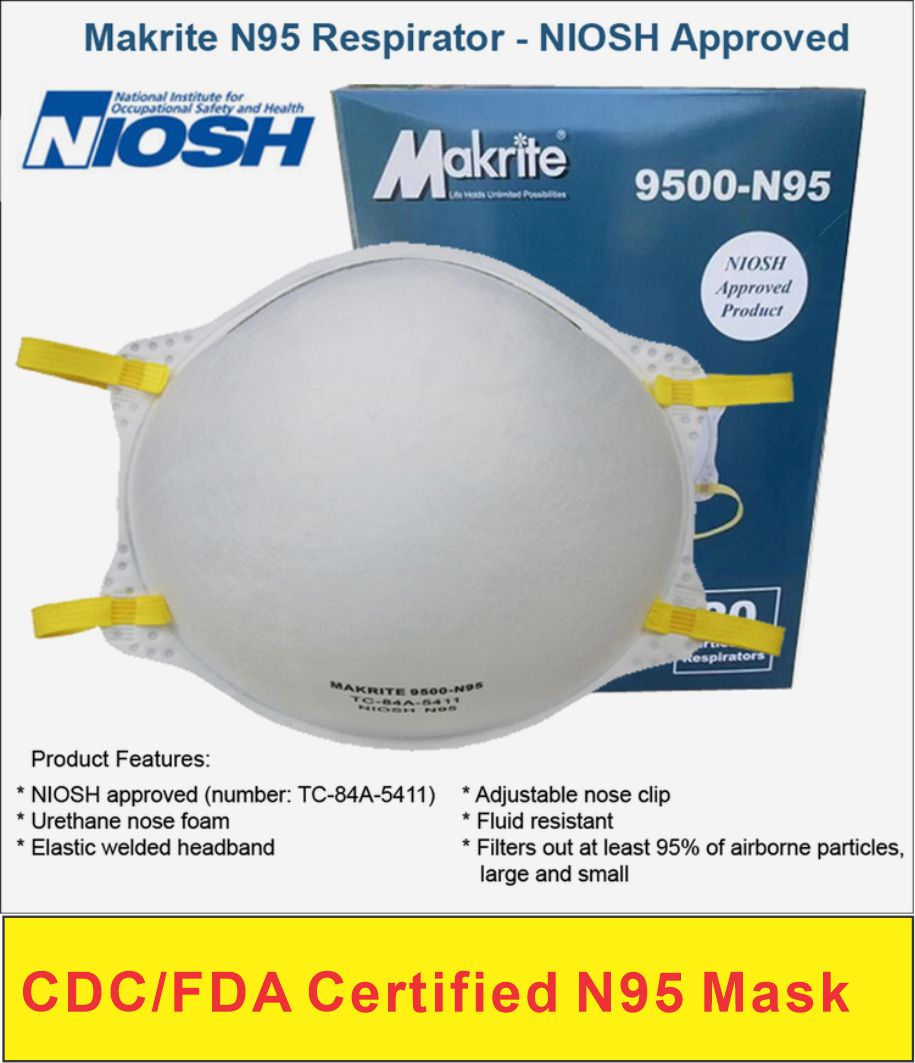 9500-N95 mask NIOSH approved,thanks to Makrite Inc.,is a much in demand in Australia due to its quality and reliability regarding reduction of Covid-19. (NIOSH Approval Number: TC-84A-5411).


Understanding the Difference





Surgical Mask


N95 Mask


Testing and Approval

Cleared by the U.S. Food and Drug Administration (FDA)

Evaluated, tested, and approved by NIOSH as per the requirements in 42 CFR Part 84

Intended Use and Purpose

Fluid resistant and provides the wearer protection against large droplets, splashes, or sprays of bodily or other hazardous fluids. Protects the patient from the wearer's respiratory emissions.

Reduces wearer's exposure to particles including small particle aerosols and large droplets (only non-oil aerosols).

Face Seal Fit

Loose-fitting

Tight-fitting

Fit Testing Requirement

No

Yes

User Seal Check Requirement

No

Yes. Required each time the respirator is donned (put on)

Filtration

Does NOT provide the wearer with a reliable level of protection from inhaling smaller airborne particles and is not considered respiratory protection

Filters out at least 95% of airborne particles including large and small particles

Leakage

Leakage occurs around the edge of the mask when user inhales

When properly fitted and donned, minimal leakage occurs around edges of the respirator when user inhales

Use Limitations

Disposable. Discard after each patient encounter.

Ideally should be discarded after each patient encounter and after aerosol- generating procedures. It should

also be discarded when it becomes damaged or deformed; no longer forms an effective seal to the face; becomes wet or visibly dirty; breathing becomes difficult; or if it becomes contaminated with blood, respiratory or nasal secretions, or other bodily fluids from patients.
This information provides clarification regarding respirator and mask use in workplaces in which employees are exposed to respiratory hazards, it is not specific for the COVID-19 pandemic.



This 9500-N95 mask provides at a minimum 95% filtration efficiency and reliable breathing protection against aerosols free of oil and/or non-volatile liquid particles.
Breathe Easy— The premium filter material provides almost no breathing resistance and full protection to the user for a minimum of eight hours.
Perfect Fit— The adjustable nose-piece is made of durable aluminum and can be shaped easily along your nose bridge to completely eliminate leakage and most importantly… stop eye-wear fogging. The double elasticity head-straps ensure a tight and perfect fit.
USE FOR—Medical Setting Personal Protection.
9500-N95 Mask Respirator
N95 Rating for protection against mechanically and thermally generated particles
NIOSH approved(number:TC-84A-5411)
Premium quality five layers protection
Fluid Resistant

Flexible and adjustable Nose Clip,urethane nose foam
Latex free synthetic straps for firm and comfortable fit
Excellent Sensitivity and Dexterity
Quantity/Box:20 PCS
Quantity/Carton:240 PCS
Request A Quote